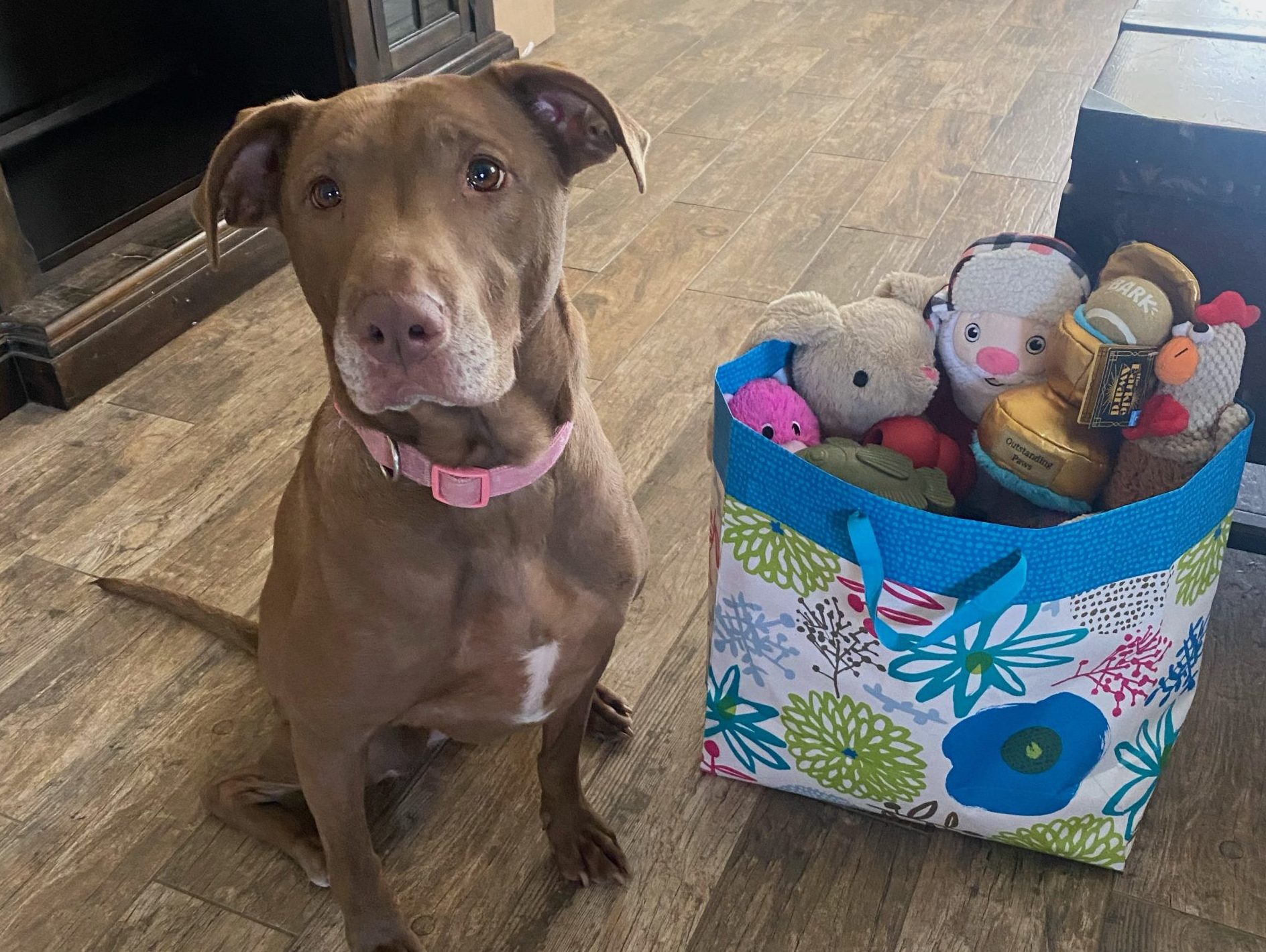 2/5/22 Princess is adopted today
After spending 11 months with us, Princess went home with her forever family. She was a real champ through her multiple knee surgeries and she is more than ready to move on with her life. Looks like she found the perfect family to spend the rest of her life with. Congratulations Princess.
11/4/21 UPDATE
Princess is available for adoption. She is doing great after her knee surgeries. No more pain, just a bright future. Click on the photo for more information.
6/27/21 UPDATE
Princess had her second surgery last Thursday. This time it was on the knee that had surgery last year. Unfortunately it did not heal properly requiring a second go around on the same knee. The surgery went well, she will have 8 more weeks to recover now. We are so privileged to be on this journey with Princess. She is a warrior through this process conquering every procedure thrown her way. She probably doesn't even know what it is like to live without pain since she was likely born this way. But we are committed to give her a better quality of life. Please consider donating to help Princess live a pain-free life. https://www.1luckydogrescue.org/donate/
4/27/21 UPDATE
Princess had her first patella luxation surgery yesterday. The plan was to correct her unrepaired knee and clean up the knee she already had surgery on because it didn't heal properly. However surgery was only completed on the unrepaired knee due to the severity of the condition. An additional surgery will be scheduled to all her future surgeries (see the 3/30 post) to fix the other knee. Princess is now resting comfortable at her foster home with a bunch of pain meds, antibiotic and also sedative to keep her calm. Bed rest for the next 6 weeks and 5 minute leash walks in week 7.
3/31/21
Princess was born with 2 bum knees. Her owners saw her through one surgery and rehabilitation to repair one of her luxating patella (dislocated kneecap). Her owners surrendered her to us to repair her other knee and re-home her.
Princess is an extraordinary girl. She is under 2 years old who loves kids, dogs and cats. She has wonderful manners, is very friendly and affectionate. She is everything you want in a family pet. So why wouldn't we step in to help a wonderful dog get healthy and send her onto her new forever home.
Boy, were we surprised by Princess' medical examination. We expected Princess needed to repair the untreated luxating patella. Unfortunately the already repaired knee did not heal correctly and will need surgery again. Both of Princess' hips are also misaligned and should be surgically corrected so that the knees will stay in place after they are repaired. One of her elbows may also need treatment and has arthritis.
It is hard to imagine the pain she is living with.
Princess is a sweetheart and a great dog. She was dealt a bad hand in life. We accepted the challenge and will help fix her up. She will not have a perfect gait, will not run a marathon or do agility races. But she will take nice walks, curl up next to her favorite human, give/receive unconditional love and of course PAIN-FREE! She may require occasional pain management after exertion.
This will be a long journey for Princess. We believe she will have many years of good quality of life since she is so young. We will give you updates on her progress. Her first surgery is scheduled the end of April. Please send good thoughts and keep Princess in your prayers.